Here's the latest update to the Aixam Mega Story.
Well, what to say… we have recently done a few conversions similar to our own van, mostly transforming the vehicle to work without the ECU.
During this time we've learned a great deal, with the main aspect being that after 2009 the speed controller and ECU seem to have changed and is now difficult to bypass. The Curtis instruments ECU is workable but the newer Sevcon version is locked out of becoming a Master and running without the ECU. Just a warning for any potential purchases.
On our own vehicle we have recently changed the batteries. Unfortunately, we originally decided to have a large battery bank. We used 220ah 6v blocks that we were offered at a good price. However, as with all these things it wasn't a good long-term choice; one battery has failed and normally we would simply replace it with a new one and then we should have around another 2-3 years out of it. As it was a one time offer, no one seems to stock them anymore, nothing even close. So we have 7 good batteries that are unusable in the truck.
So we decided to opt for a battery bank that would only just do the required daily journey, sourced from a reputable local company. 4 x 12v 110ah AGM blocks. This has a range of around 12-15 miles. The other surprise was the difference it made to the drive by reducing the weight. It is now much more frisky and quicker to accelerate which in turn is good for the batteries.
The Sunstore Electric Vehicle in all its glory seen here at the Eco Technology Show Brighton 2013/14.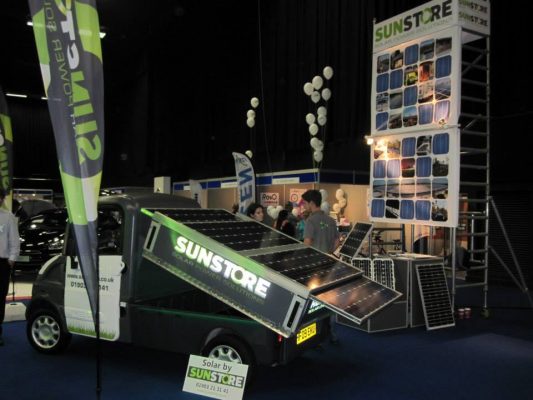 Previously
The last time we posted about our beloved electric vehicle was back in January 2013, after it had been cleaned ready for its makeover. Logos were added to door panels and bonnet and more excitingly LED lit Perspex panels around the back of the truck just in case we didn't stand out enough already on the roads we wanted to recreate the coca cola Christmas truck look.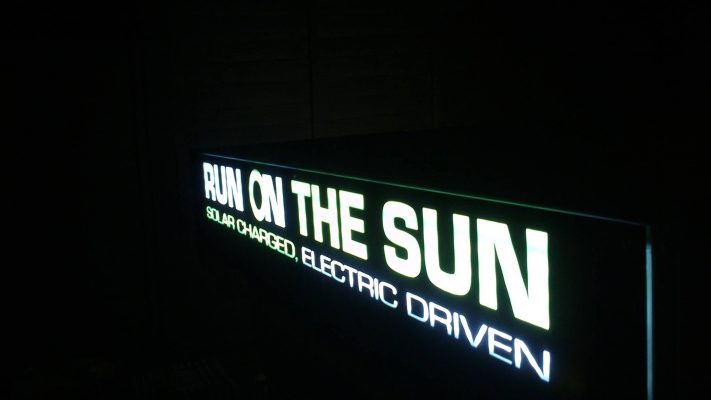 Needless to say, it has definitely been a talking point at exhibitions on social media and around Worthing where it is seen daily on its 7-mile round commute.
We have now been using the electric van daily for over one and a half years with no major breakdowns or issue, apart from when Curtis blew a fuse with his heavy foot.
Another bonus is parking. With the increase of electric vehicle car park charging spaces being seen around and there still being relatively few electric vehicles on the road using them, we always get the best car park spots.
Looking back at the history of the project and how we made it work: from the shell of the vehicle that we brought from ebay in 2012, to the fully functioning electric vehicle we have today.
Start of the Project
01/08/2012
So today we bought an electric van, it doesn't work and it has no batteries.
Victor thought I was mad and has verbally clipped his son (me) around the ear for it. I drove 200 miles in the van with the biggest trailer I have ever towed, clipping every verge and hedge as I pass, so I have to love it, and it will work!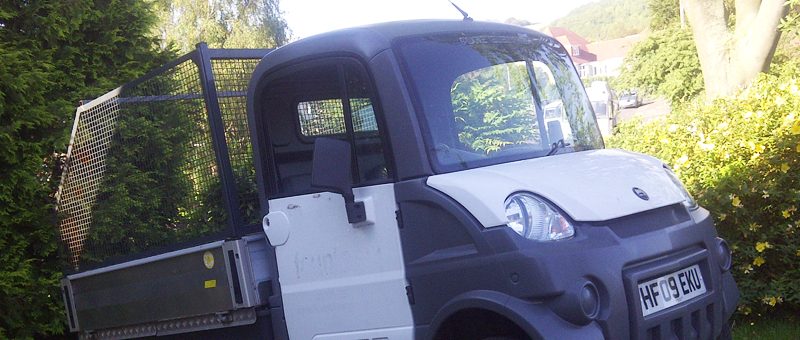 I am here to prove that electric cars, bikes and vans are not expensive to fix, build, run and maintain.
The van of choice was an eBay purchase for £1500. Aixam Mega Van. 09 plate with low mileage, apparently. I have to take the salesman's word for it as it doesn't have batteries to light the dash or show me either way. Amongst other things, he tells me that it is complete *cough*. Only after doing the deal did he discover I had a vague idea of what was missing under the bonnet and that he was lying through his teeth. Well, what do I expect from a second-hand car salesman? I don't mean to stereotype but he did successfully uphold his part.
So what do we have? A van which has 4 wheels, a gearbox, an electric motor and the all-important speed controller. In this case, the vehicle battery charger and monitor is missing. Aixam want £2500 for this part and it appears they have successfully designed it into the whole car. So you have to buy it when it fails. And according to the web, it fails. A lot!
So we will rip out the loom, the charger unit, and you are left with the aforementioned parts. After all the speed controller does all the work. So what is all the other stuff for that Axium designed in? They designed it in to make it more complex and perhaps a little smoother at the dashboard side. But there is no getting away from the fact that there are 12 wires needed to run the speed controller. Yup, just 12.
Forward, backward select. That is 2. Throttle resistor, 3 wires for that sensor. Brake pedal, ignition, safety cut out (2) Speed and eco mode (1) and we are up to 10 without breaking a sweat. Only 2 more and these are a little more complex but not entirely necessary. So with 10 wires, all just needed to wire into the speed controller we can have a working car? Well, we will see.
01/10/12
Batteries. I intending on looking deep into battery compatibility for traction purposes. I am also restricted by the framework that the van has for the batteries. 167mm x 360mm  and there are 12 slots. So to keep 48v we either need strings of 4x 12v blocks or we can use 6v blocks and use only 8. I wanted to keep costs down initially and use 12v blocks, just a single string. Enough to get the van fired up. This didn't quite go to plan though. I now have the batteries and they are not 100% perfect but were a good deal and can be worked with. This is how it came about.
Bristol Batteries, an associated company to Sunstore. We have a good relationship with them and they also have a good range of battery products for our solar kits. A couple of weeks ago I went on a battery training course to Enersys in Wales with them. Great company as well and we are working with them on our off-grid house project. Whilst I was over there we popped into the Bristol battery warehouse where they had a new range of AGM traction batteries by Lucas just in. 210ah 6v AGM blocks. I was planning on using the cheaper flooded cells and only buying 4 x 12v but like most things, reason went out of the window. Had a quick measure and once happy they fitted they were loaded into the back of the van quick sharp.
At the moment they are not in the van, neither is it running or even being worked on, but they are testing out the off grid house. You can see how they are being used to good effect over on that blog.
The plan is to transport the car down to Huet car Audio this week and have them start on the wiring designs. They have more time than me plus we decided they could probably do a neater job. In exchange for a bit of company collaboration plus a logo or two, they decided to get involved in their first eco project.
30/10/12
Some time has passed and not much has happened. We have the batteries, the van, and willing auto electricians. However, we also have a skip that sits in the way not allowing the pickup to move. This should be moved in the following days and I hope we can have it transported down to Huet Car Audio early next week. What say you Chris Huet?
On another note, I have placed the order with our panel manufacturing to create 5 special size panels to fit directly into the bed of the electric pickup. The bed is 148 x 160cm. We plan to put a set of panels in the bed that will charge the batteries. This means that they must be 48v capable. We have chosen to go with 2 x 155w 24v modules to try and maximize power and stay as strong as possible. The other 2 will appear magically or stand outside for extra power when needed. The 5th is in case of breakage.
We have had a lot of visitors and before showing them around the projects we have here (solar off-grid etc) most have grinned like a child and exclaimed "that is cool" whilst pointing at the electric van. I hope it will generate some smiles and interest once it is set free around town.
19/01/13
So it is now 2013 and a fair bit has happened to the truck since my last post. My apologies for the lack of updates.
Just before Christmas, I managed to borrow a trailer and swiftly transported it down to Huets where the work was to begin. They have an electrical genius called Jonny Hughes who's job it was to sort out the wiring loom and enable it to run without the need for the ECU or Charger units that appear to be unreliable and restrictive.
Shortly after the new year work began and on the first day, I received a phone call around 1 pm which went something like this.
Jon:  "Do you have the battery cables?"
Me:   "Yes I can make them up when you're ready to make it move, in the meantime can you use some lighter cable to get it fired up?"
Jon:   "Sure but I have already done that, I think it will move now"
Me:    "You are joking, it's working already?"
Jon:   "Yup, think so"
Me:    "I'll be there in 30 minutes!"
I could not believe it, hundreds of wires organized and connected to enable the loom to function, bypassing the Aixam units. Upon arrival, we installed the batteries in their final positions and made connecting cables. A little tweaking and checking later, it moved! This is the video of the first time it drove back into the garage without needing a push.

Next step was to make it road legal and get some form of emergency backup chargers installed for those times in the winter when the sun is not so good to us Brits.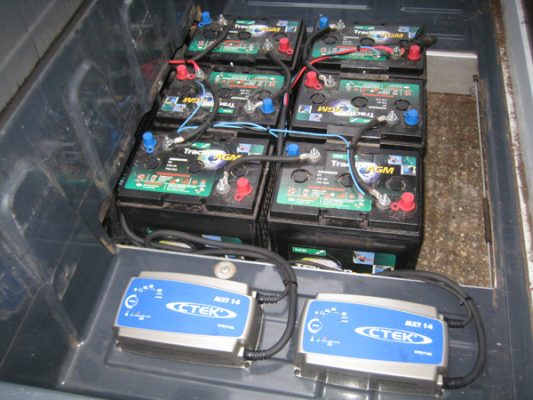 I chose to use 2 x 24v chargers. Firstly they are far cheaper than a 48v version plus they are more compact and available. Using 2 x smaller units, when wired correctly can have a better charging effect in situations with higher voltages and current requirements. The chance of sulphation is greatly reduced. In longer series banks of batteries high currents are required to ensure the middle blocks receive enough current. The Ctek 24v units we installed have an output of around 13A so should charge the batteries in 8-10 hours (using a charger that takes over 20 hours has a more damaging effect than good) if ever required. However, the plan is solar so we will not dwell on the subject any longer.
In the second week of January, we booked her in for an MOT. Failed!
2 wheel bearings, 1 steering arm gaiter, some additional side repeaters (none originally installed) along with a fog light (again not originally installed), some washer fluid and an adjusted headlight later we had the approval to take it on the road! Exciting times!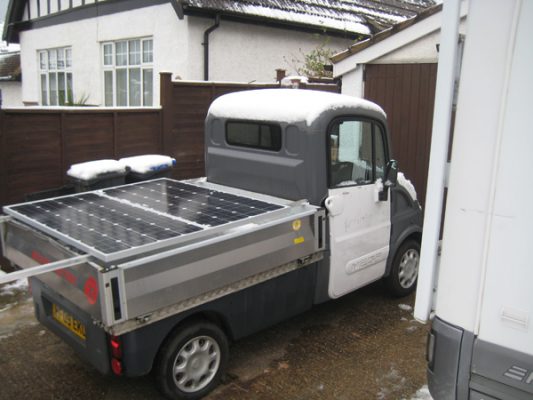 So here we are, with a working electric truck ready to be modified to be charged by Sunstore's very own Solar Panels. The same very ones we install on caravans and motorhomes etc.
28/01/13
After 1 week of running the truck backward and forward during the daily commute – update.
Running the electric truck twice daily on its 3.5km run to and from the train station means that it has been getting regular use of 7km per day. This gave me some data with a low risk of breaking down too far from the office. On a daily basis, we checked the battery voltage to see how many miles we could achieve from the batteries down to 50% DOD (depth of discharge), which is around 12v (if a 12v battery) or 48v in this occasion.
After the week we managed 48.9km and just today I managed a constant run of 30km with a voltage 49.6v (12.4v) upon return. Cold weather doesn't help with the capacity and we are running it at full power. Both these will reduce overall capacity.
In all honesty, we would not be able to use the truck in this rural area in anything but full power. The lower "eco" mode may be more efficient but at 20mph and a slow acceleration it is a little tedious for both the driver and surrounding traffic. However, in a major city I can see the appeal.
04/02/13
Over the last week, I have had the chance to prepare the truck for major use and most importantly advertising. For this, we still need to fix the solar panels on but the simpler and less exciting things such as energy meter and cleaning are also important.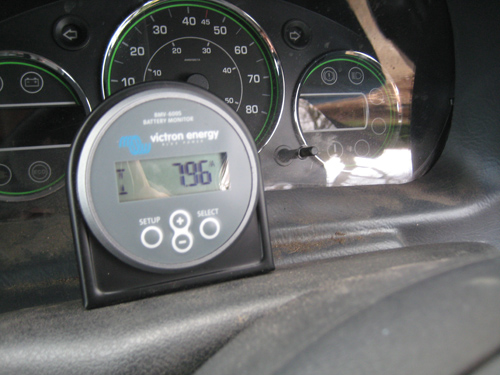 First of all, I fitted a Victron Energy battery monitor 600s. This is an ingenious bit of equipment that allows you to see at a glance what is available in your battery bank.
Temperature and current draw / loading are 2 important factors when considering the charge in a battery.
The colder the batteries are, the less power is available for use. eg. 100 ah battery is rated at 25 degrees, in 5 degrees you may only achieve 60-70% meaning only 70 ah is available.
The faster you draw the power (ie more current) then the less power will be available. eg. the 100 ah battery is rated at a discharge rate of 20 hours. This means you can draw 5 Amps for 20 hours giving you 100 ah. If you draw 100 amps then you might expect to have 1 hour of use. That is not the case. Over 1 hour or C1 as it is known, you may only achieve 50-60% giving you 50-60 ah available.
The Victron 600s has an algorithm that is able to calculate the estimated time left as well as a fairly accurate SOC (state of charge) even whilst in use.
Out of the box, there are a few settings required to be made like the battery AH capacity etc, after that it is fairly accurate. However, there are some additional settings to allow the system to increase accuracy. I discuss these in more detail in the Victron 600s review.
Cleaning – all the muck and dirt out from every nook and cranny is very rewarding. Also polishing the white plastic body panels ready for new and shiny Sunstore Solar logos. A full detail will be required for the show in June and I feel lucky the truck is of tiny proportions. So after a day of spraying and scrubbing aluminium and plastic, this is what she looks like. Another day to remove the badly scratched plastic covering the aluminium sides will be required.